In person class fees and contract and virtual class fees and contract. I'm more than happy to work with guilds and create a per person fee for classes and share classes and presentations with more than one guild.
One Day Quilt Classes or or 2 Zoom Session Classes (+1 private zoom meeting for each student)
Wacky Paper Dolls
Meet Tipsy the Toe Dancer.
She is the prototype for this fun class.
You will need a kit that includes patterns for all sorts of body shapes, and interesting clothing, Printed facial features, a pressing sheet, Parchment paper, Misty fuse, and 2 Micron Pens.
You don't need to be able to draw to end up with a crazy paper doll. You will learn a few tricks to make great backgrounds and patterned fabric, quick and easy bindings, putting the quilt together and selecting embellishments and stitches to highlight your creation.
---
Fun Color Play with An Old Card Trick
Card Trick is a block with a lot of possibilities. In this class you will learn a few different ways to put this block together. And while you are playing with the block you will learn a bit of color theory as well. We will learn paper piecing, half and quarter square triangles, and origami folded squares. At the end of this class you will have enough squares to make a table runner.
---
Scrap Bag Mosaics
So, you can't throw away your scraps – even the little ones! Here's a class for you. Marry the beauty of mosaic tile work with the colors of your scrap bag. In this class, we will start with a blank canvas and design a mosaic – a distinct way to use those wonderful little pieces, Birgit will lead the class through a brief discussion on mosaic design and we will go from there. Although a bit fussy, this technique can be relaxing and Zenlike. Birgit will talk a little bit about the history of mosaic tile work then demonstrate how to develop the pattern, attach to your fabric, apply a little color theory and then secure the whole piece with illusion netting and quilt. You'll go home with a unique quilt well under way.
Kit fee – $10.00
---
The Best of Bindings
As the last thing you do and the first thing to be judged, never underestimate the value of a great binding. We'll cover the basics, plus three different art quilt bindings, two-color binding, flanges, and faux matt binding. Learn all of these (a few basics and a few unique bindings) so that you can pick the best type for your work. You will leave the class with a book full of examples for future reference and gobs of strategies that will let your bindings wow the judges, and great confidence for putting the finishing touches on your quilt.
---
Circle Your Name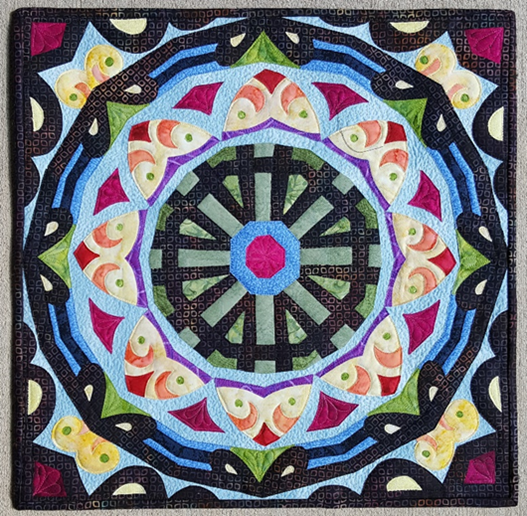 What's in a name? Well, in this class, it's a mandala design! After we explore several ways to create the design, we will select the best and prepare a cartoon. This cartoon will then be used for a fused applique art quilt top. Topics will include a discussion on choosing color, value and fabric pattern. We will have our quilt tops well under way at the end of our class.

Class fee per person is $20.00 and includes several supplies and instruction book.
---
All Year 'Round
These gorgeous samplers will guide us through marvelous circular piecing and applique techniques. We'll explore easy foundation piecing, innovative circular French Braid piecing, machine applique, and reverse applique, and simple bias strip techniques.

Student will choose one season to work on. Although each season is unique, all four of the seasons contain all the techniques being taught. The hardest part will be choosing the season!

Class fee kit – $5.00 per season. Choose from Fall, Winter, Spring, and Summer. You can purchase one or all four.
---
Two Day Quilt Classes or 4 Zoom Session Classes (+1 private zoom meeting for each student)
Portrait Quilts ~ Quiltustration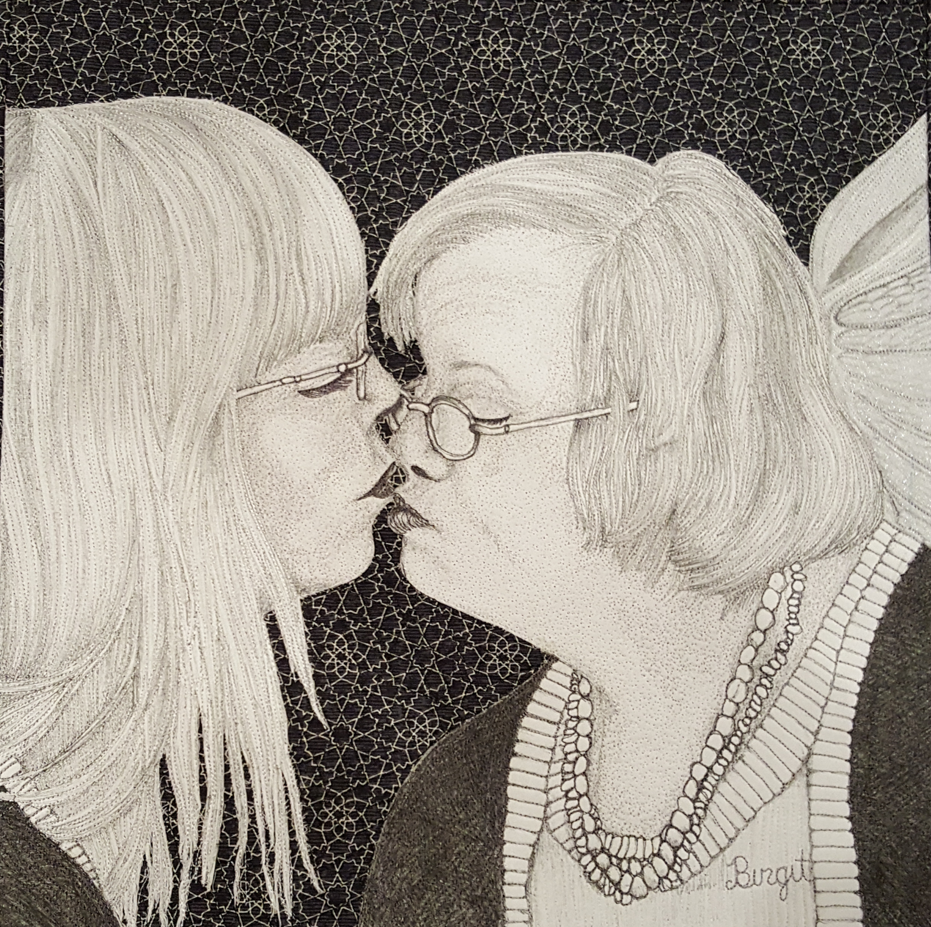 Learn how to do pen and ink sketches based on your favorite portraits. Through a series of exercises, you will learn how to draw your portrait onto cloth. Students are encouraged to bring several photos to use for the exercises.

The second day will be devoted to thread sketching demos, recommendations on thread, enhancing your portraits with different coloring media, and lots more to make your portrait quilts sparkle.

Class kit fee – $15.00
---
Circle Your Name Plus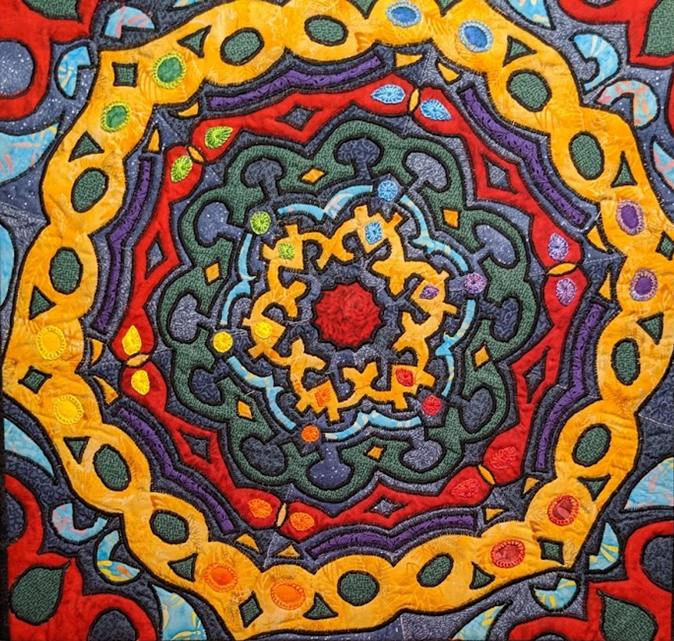 We will cover everything from Day One plus add a few techniques including flip and sew techniques, embellishing, overlaying elements, and designing a quilt pattern to complete your unique quilt. We will have our quilt tops well under way at the end of our class.

Kit fee – $20.00
---
Five Day Quilt Classes or 8 Zoom Session Classes (+ 2 private Zoom meetings for each student)
Telling your Story in a Circle
Mandalas provide the perfect vehicle to tell a story. This class will cover mandala design from selecting the images for a complex mandala to figuring out inner borders, and special story elements. Students will complete design and then work toward making full size cartoon. Once the design process is completed, student will go through fabric auditioning and selection, learn how to execute the design in sections of raw edge applique and then complete quilt with bias segmenting and finishing techniques. Quilting and binding ideas will complete the course with a quilt well under way by the end of class time. Each mandala will be unique and a piece of art the tells the story of the creator.

Kit fee $20